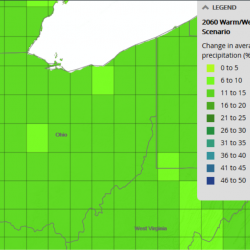 Bryan Mark, State Climatologist for Ohio, was invited to give an overview on the climate projections for the Midwest and potential water sector impacts at the CREAT (Climate Resilience Evaluation and Awareness Tool) training session put on by CSRA Inc., contractors for the EPA, on Tuesday 23 May, 2017.
CREAT
is a utility-focused tool for risk assessment that is available online, and being used mostly by utility management staff.
The event included about 35 people for a day-long training session, hosted at the Greater Cincinnati Water Works. The audience was mostly wastewater facility staff, technical assistance providers, planners, consultants, and other water sector folks involved with planning, operations, and sustainability. Bryan used the opportunity to invite attendees to contact SCOO for follow up climate data needs as they consider how they might adapt to extreme weather events and participated in the training to get hands on experience using the CREAT tool.